AS PART OF OUR COMMITMENT TO BEST-IN-CLASS PERFORMANCE AND CUSTOMER CARE, AT NOBIS, EACH JACKET SOLD FEATURES A CERTILOGO CODE FOR RAPID AUTHENTICATION.
The code has 12 digits — for example, CLG 000 000 000 000 — and is located on the white woven label inside the product. Simply scan the QR Code on the label, or type the code digits in the box below, to complete your authentication at www.certilogo.com.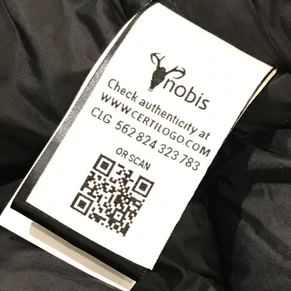 WHAT IS CERTILOGO?
A "Certilogo Code" or "CLG Code" is an identification code used to tag products belonging to those brands who have chosen the Certilogo brand protection solution to fight counterfeits. It is a "human readable" code composed of 12 digits usually preceded by the acronym "CLG." Example: CLG 012 345 678 901 or, in some cases, 012 345 678 901. All Nobis Jackets have a unique Certilogo protecting your purchase.
You will find the Certilogo on the hangtag attached to the Jacket. Each product has a unique code. Simply go to certilogo.com/code and enter the Certilogo Code into the Authenticator, which will ask you a couple of simple questions and tell you if the product is authentic or not.